We've rented our home in Newport to the same lovely family each summer for the past several years. This gives us a great excuse to:
Do a deep cleaning of the house
Catch up on all pending boat projects, fixes, improvements
Most importantly: Go Sailing!
This wasn't a vacation per se as we both continued working for our respective clients (we're both independent contractors) albeit with reduced hours. We relied mostly on mobile data to work but we were able to connect to wifi in a few places. The mobile data got a little tight near the end. We have a dedicated unlocked phone with a google-fi SIM in it – but we left it home. That would have given us an extra 20GB.
High-Level Summary
| | |
| --- | --- |
| Number of Days | 24 |
| Distance Covered | 342 Nautical Miles |
| Unique Destinations | 12 |
| Diesel Consumed | ~15 US Gallons |
| Solar Energy Generated | 28.07KWH |
| Working Hours | Bob – 78.15 Linda – 59.67 |
| Mobile Data Consumed | Lots |
| Bliss to Terror Ratio | Very High |
Geek Alert: Energy In / Energy Out
Because the sailing was so awesome, and there was so little motoring time, our energy came almost entirely from the solar array. In fact, we normally kept the system that charges our house batteries from the alternator turned off except for a few times. We felt a little bit smug (and slightly annoyed) when we were anchored or moored next to boats running shitty noisy gas generators at night. Our panels include a Renogy 175w, two Sunpower 100w and one Sunpower 50w.
The main consumers of that energy were: our work laptops and the fridge. We successfully achieved equilibrium during the trip – getting our work done and having ice cubes for our drinks. There were plenty of sunny or partly sunny days during the trip. You can see in the graph below two pretty distinct dips in the total (green) energy generated. The one around the beginning of August was because we were plugged in at Constitution Marina in Boston – so the Panels didn't have much to do. The dip at the end was a run of a few overcast days.
On a "good" day, we generate about 1.5KWH. Typically the Lithiums would be at about 95% SOC at bedtime and about 85% the next morning.
The Itinerary
This trip was all about sailing to the wind – NOT to a timetable. Our estimates of where we would be and when changed almost daily. More than once we had a leisurely morning planned but instead woke up super early to catch a good breeze to the next destination (which would often change last minute). The result was a month of some of the best sailing we've ever had. The only destination we had booked ahead of time was the slip in Boston – and we even changed that date – twice – in the days leading up to our arrival there.
Generally, the plan was to sail up to Boston and the North Shore and back and hit as many of our favorite spots as possible along the way given the wind, and our work schedules.
Click Here for the recorded track.
We left our home marina in Wickford, Rhode Island on 24-Jul with a couple of friends who were visiting from New York. The plan was to sail to Newport to drop them off, but along the way, we had to stop and anchor for an hour so Linda could join a meeting at work. This was a common thread throughout the trip.
From Newport, we had a beautiful downwind sail all the way to Pocasset, Massachusetts (Red Brook Harbor) where we anchored behind beautiful Basset Island. One notable thing here was the water temperature. We currently do not have a working thermometer, but it was very warm – like too warm! We had a lot of very hot days early in the trip and jumping in the water there, was not quite the refreshing experience we wanted.
Along the way, we passed S/V Pax and S/V Sarang – both fellow members of Blue Water Sailing Club – in Buzzards Bay on their way back from the club's Southern Cruise (which we did not join). The bay was relatively flat and the wind dead astern so we flew all three sails and made great time.
The Fan was Hit
We made an early departure from Red Brook to time the canal current with a plan to sail north to Scituate, Massachusetts. The wind forecast was robust with mid-20s kts of SW winds. We would be going North along a windward shore with the wind well behind the beam. These are normally sleigh ride conditions for Argon so we looked forward to a very fast (but jaunty) sail up to Scituate.
Well, as soon as we exited the canal, those mid-20s were 28kts and building. Any question of reefing or not was answered quickly.
Soon we had low and then mid 30s of wind. The direction was still good and the windward shore kept the sea state from getting dangerous, but it was a pretty wild ride. For the first time in a long time, we even reefed the 90% jib and we were cooking along at over 8kts. I saw "42" on the wind instrument a couple times. It was PFDs and Tether-In time for sure.
We expected 25 and got 35. If you multiply 25 times the square root of 2, you get 35. The upshot of that, is that we had two times the wind energy that we were expecting. We decided to bail out into Plymouth instead of going all the way to Scituate. The people in Scituate were kind enough to alter our reservation and Linda got a mooring reservation in Plymouth on the phone (while being bounced all over the place down below). Anyone familiar with Plymouth Harbor knows we were in for a LONG motor straight into 35kt of wind to reach the mooring field.
Itinerary Highlights
Red Brook (Pocasset, Massachusetts)
One of our very favorite places to go and wait for north-bound canal timing. It's a skinny, shallow channel to get in there. We've now done it at high and low tide without an issue (we draw 6 feet). Linda managed to get in a good distance swim here along the island.
Plymouth, Massachusetts
Plymouth was an unintended destination (see note about the fan above), but once things calmed down a bit, it was a lovely stop. We never went ashore and in fact never even commissioned the dinghy. This didn't stop us from swimming, but it meant doing our rather awkward belly crawl under the helm seat and dinghy to get into the water. The water temp here was perfect – actually refreshing on a very hot day.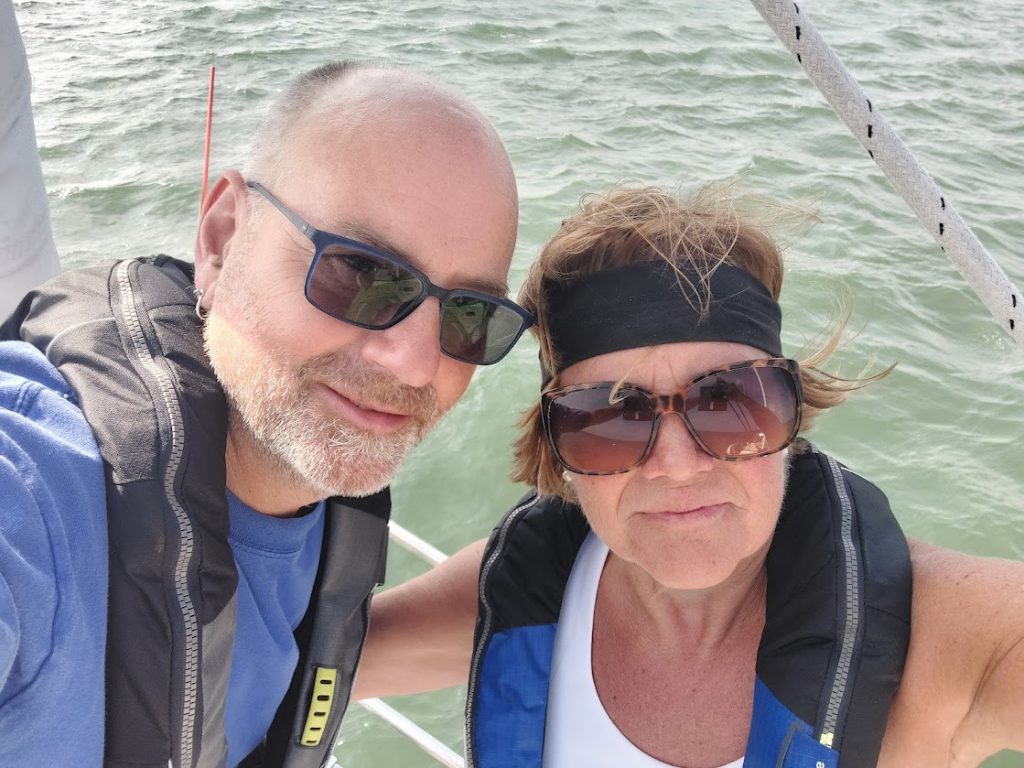 Scituate, Massachusetts (twice)
We motored and (mostly) sailed out of Plymouth Harbor and had a lovely sail up to Scituate. Total engine hours this day was about 0.5. We went ashore in Scituate for dinner and some groceries. We planned to have a late morning and even kayak/paddle around a bit before heading up to the North Shore (probably Salem).
We expected this one to be a lot of motoring, but at 0600, I woke up, checked wind and said "If we go now, we can actually sail" – so we dropped lines by 0630 and were sailing out of the channel north toward Salem MA.
Salem, Not Manchester? But Why?

Manchester By The Sea is a special place for us. It is the very first place we ever sailed and stayed overnight when we were learning to sail at Boston Sailing Center back around 2007. We love going there. But in keeping with a very depressing trend, the moorings are now $100/night and there is no possibility to anchor. Salem has a Safe Harbor marina and because we are Safe Harbor members, the mooring there was free. That sort of made our choice, but it was a real bummer to miss out on Manchester. In hindsight, maybe we shouldn't have been so cheap
Salem with a Thunderstorm
The sail from Scituate to Salem was slow but very relaxing. The water was like glass and matched the sky in color, but yet there was about 10kts of wind at a decent angle. We expected this to be a rare motoring passage but we ended up sailing almost the whole way until we were right at Marblehead neck. This is also the passage where we got our first glimpse of the Boston Skyline of the year.
We kayaked and paddled around Salem Harbor a bit. We also recognized another Tartan Spirit from Quissett, MA on the mooring next to us. They had come into Plymouth behind us during the high-wind bail-out day. And then we learned that they are also members of Blue Water Sailing Club. We chatted about the wind "that day" and enjoyed a lived to tell about it moment.
We knew some potential thunderstorms were coming that night but winds were not predicted to be especially high. Still, we noticed that some people around us were adding extra mooring lines (even tying around their masts). We just sat tight on the boat. About 2100, it all rolled over us and brought some pretty high winds. It also turned NE so the fetch rolled straight into Salem harbor and it was quite robust for a few hours.
Boston!
We planned on hanging out in Salem for a couple days and maybe grabbing a mooring at Misery Island (or maybe even coughing up the hundred bucks for a night in Manchester). But once again, we saw a window with decent wind angle to make for Boston the next morning. So we altered our reservation (for a second time) and decided to sail to Constitution Marina that afternoon. We had to wait until after 1300 to check in so we anchored behind Long Island for a bit.
Drugs are Bad, m'kay?
While in Boston, we ticked off one TODO from our list: We got our Federal Drug Tests for renewing our Captain's Licenses. (yes, we passed). Because we both got busy with work, this turned out to be our main excursion into the city (except for the obligatory North End Restaurant outing).
We had a great time in Boston and caught up with a lot of our friends and former Marina Neighbors there.
We also had a visit from NorthEast Rigging to have a look at our Standing Rigging while in town. All good, but we are due for a close look up in the chair.
Provincetown via Scituate (again)
All good things must end, and so we turned in our key fobs and untied from the dock. The plan was to only go as far as Peddock's island and anchor for the night and then off to Provincetown the next morning. But (once again), the wind offered a strategy of sailing to Scituate and then to Provincetown the following day. Doing that would give us a good angle on both of those legs. The only problem was that there was no mooring availability in Scituate on Dockwa. Linda had to finally do it the old fashioned way and get on the phone. She eventually found what appeared to be the last mooring in town.
On the way out of Boston, we were greeted by the USS Constitution (sans rigging on the center mast). A Boston Police boat came over to tell us to stay out of the way (which we were). And then as we headed out the main channel, a large container ship came out. We got way out of the channel but another official boat came over to warn us off. As is tradition, these boats are apparently crewed by people who do not know how a radio works so they do the "come close and yell" method of communication (I will never understand this).
The wind was a little lighter than we wanted the next morning for Provincetown, but we managed to sail most of the way. It picked up nicely in the second half and were under sail right up into the inner harbor near the moorings.
We were determined to Play hard and Work hard in PTown. We rented bikes on our second day. In another small world situation, we also connected with friends who sailed there from our former marina in Cowesett. There was some weather coming on the third day so we figured that would be a work day. The weather had other plans…
Our "work" day started out normal. We expected things to be a bit windy and rough in the harbor with a strong SE wind in the morning.
We were just minding our own business working, when Linda looked at her phone and said "Tornado Warning". I asked "Where?". She answered "Here". Oh boy! So we bailed out of work and stowed everything. The coast guard weather messages were sounding a bit worrisome. Lots of talk of "possible waterspouts" and such. We got foulies and PFDs on and strapped in. The wind was really building as the storm approached and so was the fog. If there were a waterspout, we would never see it coming. It all rolled over us fairly quickly with nothing above 35 knots but two tornadoes did actually touch down within 30 miles. We got back to work and later went to dinner ashore for our last night there.
Racing the Sun to Red Brook
We had a rare good wind angle to leave PTown to sail SW toward the Canal the next day but the breeze didn't fill in until the afternoon which enabled us to each get several hours of work in early in the day. Plus the timing of the canal dictated that we arrive at the entrance later in the afternoon. Our intention was to sail to and transit the canal, and then sail to Red Brook – before dark. We dropped the hook behind Basset Island just as the sun was setting.
The Final Legs Home
The plan was roughly to get to Cuttyhunk (southern tip of the Elizabeth Islands, Cape Cod), then to Block Island and then to Home-ish. I've always wanted to go into Woods Hole and into the pond (under the bridge), but there was no availability at all in Woods Hole. That is still a place we've never stopped in. So the next best place is Hadley Harbor which is a beautiful spot just off of Woods Hole Channel. Looking at the wind, we planned to leave for Cuttyhunk at 0530 the next day as the wind was expected to veer north a bit and give us a good angle.
We anchored in about 15 feet of water and kayaked around the various nooks in there. It really is beautiful.
It's all fun and games until someone miscalculates the wind shift. Note above that we were fully aware the wind was going to veer 90 degrees overnight. Now look at the photo of how close we are to that sea wall. Yeah, we messed up. At about 2300, I was looking at our position and then imagining what our new position would be after the 90 degree windshift and it made me sad. I stayed up for a while in the cockpit and we decided to wake up hourly and check on things.
At 0200, still no wind shift
At 0300 – windshift! And we were now sitting South East of our anchor with our stern toward the seawall. I looked at the chart and we seemed to be fine. It indicated we were still well within some 15 foot water. I relaxed a bit. I went up to the bow and gave the anchor chain a good tug just to verify that we were still set well on the new angle. Very tight – good. As I was getting ready to go below and tell Linda that all was well, I looked at the instrument and noticed the wind was only blowing "5.8". Oh I felt even better – until I realized that I was in fact looking at the depth instrument!!
So, instead, I went below and woke Linda up with "we're in 6 feet of water" and then I remembered all the huge boulders I saw while kayaking earlier.
We first considered just re-setting the anchor. I had about 60 feet of chain out which was a little overkill so I pulled up about 10 feet just to pull us a little closer to the deeper water. No change in depth. So it was time to move. It was VERY dark in there and some of the other boats did not have their -ahem- "optional" anchor lights on. So we decided to re-set in the outer harbor which has a lot more room. As we were motoring out through the very skinny channel (looking for the unlit nav aids with a search light), we decided – "Let's just sail to Cuttyhunk now". It was only 2 hours earlier than we planed on anyway and the wind was a great angle now.
Cuttyhunk Island
There is no place quite like it. It's massively populated in the summer with boaters but mostly empty in the winter but with a few hardy year-rounders. It's really a fascinating place and nothing here will really describe it. Read the wiki. Winds were forecast to build during the day after we arrived, but we opted to go inside "the pond" to get a mooring. After seeing so many other boats struggle to get moorings in high winds, I would probably opt to stay outside in high winds (It's actually lovely outside the pond too). Watching some of these boats, we were entertained if they were NOT upwind from us and a bit worried if they were.
We were getting a little bit lean on water. Washing dishes was becoming more important than washing the crew. So I made a few trips to the dinghy dock with a 5GAL jug. We were definitely not in our Caribbean water conservation mode on this trip.
On the second day, we planned to do the long sail to Block Island, but again waiting until late morning for the breeze to fill a bit. So, we used the morning to get out and swim, paddle and peddle (kayak). And I did a couple more water runs.
Block Island
This is Cuttyhunk on Steroids – or maybe on Crack. It's party central for boaters and ferry tourists during the summer. There are quite a few year-rounders here and it's much less "outpost" than Cuttyhunk. It was about a 35 mile sail from Cutty to Block and we expected fairly light winds at an okay angle. What we did not expect was some of the thickest fog we've ever been in for several hours of it as we approached block. Radar was our friend.
Fortunately, we were sailing and so could use our ears a bit to listen for power boaters (who were all going way too fast for the conditions). Rader was picking up targets and we were sounding our prolonged-short-short sound signal (not that anyone would be able to hear it). Things cleared as we rounded the green "BI" buoy and headed south to the salt pond channel. The wind even picked that time to back a bit and give us an angle to keep sailing most of the way.
We expected a little weather the next morning. I woke up thinking one of our neighbors had one of those strobe anchor lights, but it was actually lightning.
Back to Narragansett Bay
On our last day in Block, we worked the morning and then took advantage of a building SW breeze to sail back into our home bay. But where to? We looked on Dockwa and decided to give Jamestown Boatyard moorings a try. They are also Safe Harbor and so… free! That works.
We sailed into Newport Harbor in style with all three sails out. It's important to look good in Newport Harbor.
The JB moorings are tucked in behind the Clingstone house (The house on the rock) and it is really pretty. You also get to gawk at James Taylor's house from the mooring field. We knew the wind was going to veer north-ish the next day but we underestimated how bouncy it would get in in there in a northerly. We worked most of the next day and it was really bouncy. I've got a strong stomach, but starring at a computer screen in that stuff is my weakness.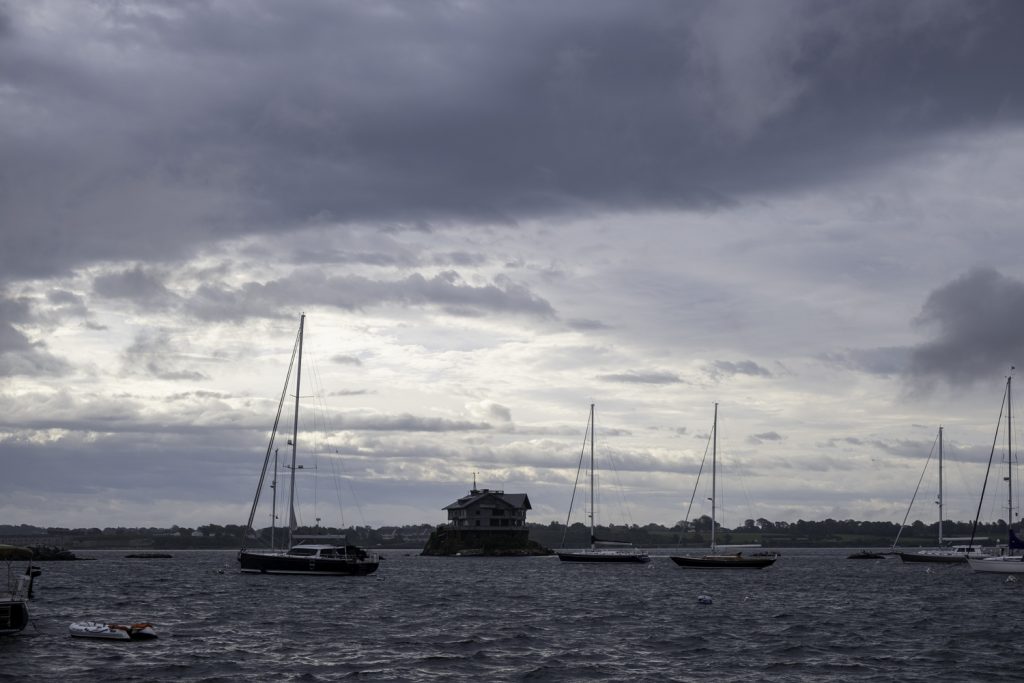 We bailed out and went across the bay to the Newport side which is very well protected from the North. We got the last available Oldport Mooring.
Visits with several friends aboard Argon were arranged while in Newport Harbor for our last couple of days followed by a fantastic final sail back to our home marina in Wickford (with a quick stop over at a North Kingstown Town mooring so Bob could do some teleconferences… work continues!). After nestled into our seasonal slip we felt no rush to return our our land house and took our time getting Argon cleaned and ready for our transition back to our regularly scheduled lives.